Robin Guillen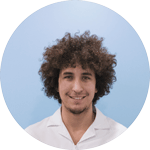 Osteopathic Manual Practitioner
Hours of Availability
DAY - AM to PM
DAY - AM to PM
Robin is a Toronto based osteopathic manual practitioner and graduated from ISOsteo Lyon, one of the oldest osteopathic school in France after five years of full time training.
Why should patients choose you as their provider instead of others in the area?
He has always been interested in studying health, and the holistic philosophy of osteopathic manual therapy aligned perfectly with his idea of what healthcare should be. He is passionate in his quest to understand the human body and its workings and how osteopathic treatments can influence this complex interactive system.
What are the top 3 treatments that you focus on?
I specialize in a variety of treatment to be able to adapt my treatment to the patient. However my top three treatment are cranio-sacral, visceral manipulation and myo-fascial release.
What are you proud of in your practice?
I pride myself in taking the time to listen to my patients and assessing them in order to understand their individual needs. Thanks to this knowledge, I use many different osteopathic techniques to better respond to patients' needs. It allows me to find the origins of the problem in order to encourage the body's own healing mechanisms.
Which cases do you enjoy treating? Why?
I am very passionate about treating each client specific to their needs and strive to make a positive impact with each treatment. I have gained professional experience with sport injuries, digestive issues, stress/anxiety, TMJ disorders, and headache/migraines.
But nothing else than having patients telling how much better they fell after experiencing my treatments, do I enjoy the most.

Book an Appointment Today!