Adelaide | Danelia Chacon, RMT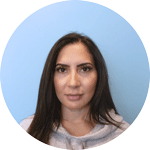 Registered Massage Therapist
Hours of Availability
DAY - AM to PM
DAY - AM to PM
Graduated from fitness and health promotion in 2007, have over 10 years experience as a personal trainer/ fitness instructor. Have been working as a RMT for almost 3 years. Combining both areas of work have given me a better understanding of the body biomechanics. Works well with athletes as well with the general public.
Why should patients choose you as their provider instead of others in the area?
I enjoy treating patients with all sorts of issues, using a variety of techniques and modalities in my treatments that will get each individual quick results so they can carry on with their daily activities pain free.
What are the top 3 treatments that you focus on?
My top three modalities I use in my treatments are deep tissue, trigger point release and active release techniques to help increase mobility and flexibility of joints and muscles.
What are you proud of in your practice?
I am proud to have helped many people get better. It is very rewarding to me to treat patients with a wide variety of issues such as back/shoulder/neck pain or injury, fibromyalgia, arthritis, osteoporosis, osteoarthritis, depression, stress, etc. and seeing them progress to a healthier version of themselves after a few massage sessions.
Which cases do you enjoy treating? Why?
I enjoy treating every patient. I have to say though, my favourite are patients with chronic pain such a back, neck, shoulder pain. Unfortunately this is a concern amongst people with a desk job, who work for hours on end with very few breaks to stretch or get up and walk around the office. Treating this type of clientele is the most rewarding to me because after one session they can already see a difference in their posture, stress level is diminished and tight muscles feel more relieved of tension.

Book an Appointment Today!
Or

Patients will be charged 50% of the treatment fee for late cancellations or missed appointments.