Adelaide | Gene Nillas, RMT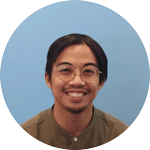 Registered Massage Therapist
Hours of Availability
Day - AM to PM
Day - AM to PM
After graduating from the University of Toronto with a Bachelor's in Kinesiology, Gene completed his diploma in massage therapy at Sutherland-Chan School of Massage Therapy. Gene loves hip-hop culture, and is also part of a Toronto-based urban dance team FOREAL Dance Company.
Why should patients choose you as their provider instead of others in the area?
From being in pain myself, to seeing my peers and their concerns, I have a genuine interest in finding the root of the problem. As a therapist I enjoy looking at the body as a whole, as I believe there's always multiple routes to the problem at hand. As well as I love to be open and honest of what I find or what to consider for a progression towards a client's goals. Goals being reducing pain, returning to activity, regaining range of motion and so forth.
What are the top 3 treatments that you focus on?
Every case is an opportunity to learn, so I enjoy seeing everything. If I had to be nitpicky, maybe forearms and hands? I feel it is one of the more neglected areas in people, and there's so many muscles to work with.
What are you proud of in your practice?
I am proud to have direct cause and effect to the clients I see, and being able to help in any way I am able to.
Which cases do you enjoy treating? Why?
I enjoy deeper tissue work, muscle energy techniques, and myofascial release techniques.

Book an Appointment Today!
Or

Patients will be charged 50% of the treatment fee for late cancellations or missed appointments.