Yonge & Bloor | Ashima Naval, PT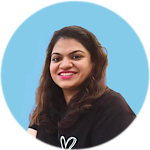 Physiotherapist
Acupuncture & Dry Needling
Neuro & Vestibular Rehab
Ashima graduated with her bachelors in Physical Therapy in 2010 and has been treating patients since then. She did her Masters in Physical therapy with specialisation in Neurology. In all these years of practice, she has treated clients with variety of ailments ranging from Musculoskeletal and sports injuries, Neurological problems, Vestibular dysfunctions, Cardiopulmonary issues etc. In addition, she is also a certified Pelvic floor Physiotherapist. When not treating clients, Ashima can be found seeking new experiences, exploring new places and cultures and playing with her dogs.
Why should patients choose you as their provider instead of others in the area?  
My motivation to get up and get going in the morning is to be able to help people heal. I strive to make people recover faster and be able to lead a happy and pain free life.
I believe in evidence based approach for treatment of clients and have co authored many publications regarding treatments approaches that can be used for seeing faster results in various ailments.
What are the top 3 treatments that you focus on?
Ashima is well versed in acupuncture and dry-needling, neuro and vestibular rehabilitation, and pelvic floor strengthening and rehabilitation techniques.
Which conditions do you enjoy treating? 
Ashima enjoys treating Musculoskeletal injuries, Neurological ailments and Vestibular dysfunctions, and Urinary incontinence and other pelvic floor ailments.
Book an Appointment Today!
Or

Patients will be charged the full amount of the treatment fee for late cancellations or missed appointments.
Please see our full late cancellation/missed appointment and late arrival policies here.