Yonge & St Clair | Benjamin Reid, RMT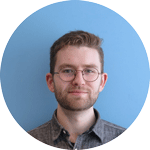 Registered Massage Therapist
Hours of Availability
Day - AM to PM
Day - AM to PM
Benjamin Reid graduated from Dalhousie University with a Bachelor of Science, studying psychology and neuroscience, before pursuing a career as a massage therapist. He graduated from the Canadian College of Massage and Hydrotherapy at the top of his class in 2017, and has been practicing since January 2018.
While he is not working, Ben is an avid runner, and frequently tutors future RMTs.
Which cases do you enjoy treating? Why?
Ben not only enjoys treatment and rehabilitation, he also enjoys educating patients about whatever their concerns may be. He believes that informing his patients about their treatments and at-home care is a great way to get them more involved and successful in their recovery.
What are the top 3 treatments that you specialize in?
Ben is skilled at adapting to whatever a patient's needs may be. He is skilled in the treatment of tension headaches, trigger point therapy, and sports massage.
What are you proud of in your practice?
Ben most proud whenever a patient is able to leave with a significant amount of relief, especially if it is from an issue they have had for a long time.
Why should patients choose you as their provider instead of others in the area?
Ben enjoys treating any cases he receives and developing treatment plans that allow for the fastest recovery time possible. Challenging cases are especially appreciated by Ben, and he finds great satisfaction in helping those patients in their recovery.

Book an Appointment Today!
Or

Patients will be charged 50% of the treatment fee for late cancellations or missed appointments.