Jane J. Bai, PT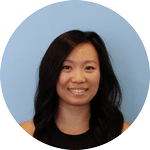 Hours of Availability
Tue 9AM to 2PM or 9AM to 7PM (alternating weeks)
Wed & Fri - 9AM to 7PM
Thu - 9AM to 2PM
Telerehab Physio Available!
In response to guidance surrounding social distancing, I would like to announce that I will only be working virtually moving forward until further notice.
If you have an upcoming appointment, I have kept your treatment times for now (and will honour them via an online confidential videoconference platform), please notify me if you do not have access to a working camera and/or if you do not have an appropriate space to perform exercises and/or cannot reach me virtually via https://doxy.me/janejbaipt.
For your appointments, to take it online, please login at your scheduled clinic time at this link: https://doxy.me/janejbaipt on mobile or computer.*
If you are interested in TeleRehab, for either orthopaedic care or pelvic health care, please contact me directly at jbai@stepupclinic.com.
*DISCLAIMER: You must be an Ontario resident. You must check with your insurance company to inquire about reimbursement for telerehab physiotherapy services.
Jane completed her Masters of Physical Therapy education at McGill University. Her interest in pelvic floor physiotherapy stemmed from taking an elective course taught by one of the founding leaders in pelvic floor physiotherapy, Claudia Brown, and since then her path in physiotherapy took a drastic turn.
She has successfully completed level I 'Male/Female Urinary Incontinence', level II 'Male/Female Pelvic Pain', level III: 'Clinical Skills in Treating Pain', and 'Oncology and the Pelvic Floor' courses offered through pelvic health solutions. She also holds the manual therapy (FCAMPT) level one certificate, which she challenged in 2016. She plans to continue her training in pelvic health physiotherapy and manual therapy.
Why should patients choose you as their provider instead of others in the area?
I take a biopsychosocial approach to practice to get to the root of the problem and to custom tailor a treatment plan to get you back to doing the activities you love to do! I believe that client education is a key component to treatment but also crucial for prevention of further injury. I also practice what I preach by taking a holistic approach to my own health and wellness by finding balance through running, music, racquet sports, and meditation.
What are the top 3 treatments that you specialize in?
I am most passionate about treating conditions related to pelvic health, such as, urinary incontinence, pelvic organ prolapse, and persistent pelvic and low back pain.
What are you proud of in your practice?
I find my line of work extremely rewarding by working primarily with a population whose quality of life is greatly affected by urinary/fecal incontinence, sexual dysfunctions, persistent pelvic girdle pain and pregnancy related pain. Through education, self-management, and physiotherapy treatment I partner with my clients to assist them in regaining control of a fundamental component of their day-to-day function which is often times kept secret because it's 'too embarrassing' to talk about.
Which cases do you enjoy treating? Why?
I enjoy treating complex persistent pain conditions because I get to utilize very new evidence-based approach to help this population self-manage their pain symptoms. I also enjoy empowering women during important landmarks in their lives, such as during their pregnancy or menopause to prevent and manage common injuries/conditions during this time of metamorphosis.
Book an Appointment Today!
Or

Patients will be charged 50% of the treatment fee for late cancellations or missed appointments.