Ariani Saleh, RMT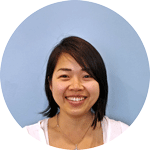 Registered Massage Therapist
Hours of Availability
DAY - AM to PM
DAY - AM to PM
She graduated from Sutherland-Chan School of Massage and Therapy.
Why should patients choose you as their provider instead of others in the area?
She treats her clients based on their cases using various type of techniques and modalities such as Swedish massage, Myofascial Release and Trigger Point Therapy, Hydrotherapy, cupping, relaxation, and hot stone massage.
What are the top 3 treatments that you focus on?
Having experienced treating patients at spinal cord rehab center, she is confident working on the neck and shoulder area. She also enjoys treating pre-natal and post-partum massage.
What are you proud of in your practice?
The biggest satisfaction is seeing my clients walk out of the treatment room with a happy smile and improve their daily activity after the treatment plans.
Which cases do you enjoy treating? Why?
She enjoys treating various cases. Neck stiffness, back pain, herniated disc, neuropathy, sore muscles, ankle sprain, anxiety and depression, and relaxation.

Book an Appointment Today!
Or

Patients will be charged 50% of the treatment fee for late cancellations or missed appointments.