Dr. Tim Lau, DC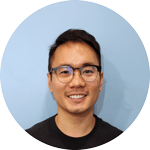 Chiropractor
Acupuncture Provider
Orthotics Provider
Hours of Availability
DAY - AM to PM
Dr. Tim Lau is a board-certified chiropractor and acupuncture provider. He received his Doctor of Chiropractic and Clinical Acupuncture Certificate from the Canadian Memorial Chiropractic College and Honours Bachelor of Science from the University of Guelph, majoring in Human Kinetics. He has previously provided outreaches for UPS and CMCC's Backswing Golf Tournament.
Why should patients choose you as their provider instead of others in the area?
Dr. Lau is an evidence-based chiropractor, focusing on providing excellent patient care and creating tailor-made treatment plans built around your needs and lifestyle. Whether it is work or sport related, he will work together with you to reach your goals.
What are the top 3 treatments that you focus on?
Treatments focus on the whole patient, incorporating muscle release techniques, acupuncture and gentle adjustments. The purpose of these are to treat the injured tissues, getting blood to flow to the local area and start the healing process. Rehabilitation, stretches, and instrument assisted soft tissue therapy may be introduced later with the goal of helping you move and feel better.
What are you proud of in your practice?
I'm proud of being in a profession where I'm able to help rebuild others from the ground up. I treat every patient as a person, not a number and it brings a smile to my face when patients are able to tell me stories of how far they've progressed. To performing simple tasks such as getting up in the morning with less pain and stiffness to being able to play a round of badminton without pain.
Which cases do you enjoy treating? Why?
I am very passionate in treating patients from all walks of life. I have a interest in postural-related conditions such as neck, back pain and acute sports injuries.

Book an Appointment Today!
Or

Patients will be charged 50% of the treatment fee for late cancellations or missed appointments.