Adelaide | Indu Murali, PT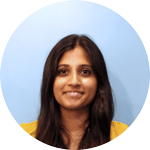 Hours of Availability
DAY - AM to PM
Indu is a registered physiotherapist who received her degree in 2014 from the prestigious University of London in the United Kingdom. She also obtained a degree in kinesiology in 2010 from the University of Waterloo. Indu is a trained Indian classical dancer and singer, and used to participate in volleyball, badminton, and gymnastics in her free time at school. Through these various avenues, she was able to learn how proper body mechanics and breathing techniques can help you succeed in these and many other activities and prevent injuries. Because of her keen interest in physiotherapy, she has volunteered her time in various clinics and hospitals in other countries where people are unable to afford care. She is keen on furthering her education by taking various orthopaedic courses in order to maximize her skills.
Why should patients choose you as their provider instead of others in the area?
I have dealt with injuries personally and professionally. These experiences allowed me to gain a deeper understanding of an injury and the multiple components that can affect how an injury manifests itself. This allows me to individualize my therapy for each client to ensure that we are resolving the underlying cause.
What are the top 3 treatments that you focus on?
I like to focus on manual therapy, exercises, and education. I believe that a fusion of these different therapies is the key to not only recovering from an injury and reducing pain, but to help the client be able to self-manage and prevent their symptoms in the future if it were to arise.
What are you proud of in your practice?
I am proud of being able to create a positive rapport with my clients so that they feel comfortable to allow me to help them in their recovery. I believe that having this relationship leads to the greatest chances of success for the client.
Which cases do you enjoy treating? Why?
There is no one particular case I enjoy treating. I find it enjoyable treating a variety of cases as it gives me the opportunity to have a diverse caseload. This also allows me to use a range of evidence-based practice to help the client achieve their goals.

Book an Appointment Today!
Or

Patients will be charged 50% of the treatment fee for late cancellations or missed appointments.