Justin Hui, RMT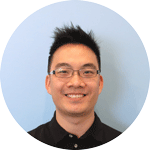 Registered Massage Therapist
Hours of Availability
Day - AM to PM
Day - AM to PM
I have a background in Biomedical Engineering Technology which allows me to take very structural and analytical approach to my clients' healthcare and development. I find joy in educating people in ways that they can not only correct their pain but reduce the risk of it happening in the future.
Why should patients choose you as their provider instead of others in the area?
I thoroughly enjoy watching my clients improve as weeks go by after we've found and corrected muscular weaknesses and functional imbalances and do my best do inspire clients to be excited about feeling better and stronger. As I muscle test, I explain my findings and relate them to the simplest ways to correct muscle imbalances – only ever giving exercises that I've done myself so that I can show my clients that they work.
I also have experience working with athletes, particularly martial artists, baseball players and softball players.
What are the top 3 treatments that you focus on?
I specialize in the treatment of tension headaches, active myofascial release and trigger point therapy.
What are you proud of in your practice?
I am particularly proud of the feedback I've received from clients saying that I treat "similarly to an osteopath or physiotherapist" on multiple occasions. I appreciate the fact that my head-to-toe approach is noticed by the people I look after. My favourite moments are the ones where clients immediately start smiling when they notice the freedom from restriction of pain and tightness – especially the cases where pain has affected this person for years.
Which cases do you enjoy treating? Why?
I tend to have the most fun when isolating muscular weakness, finding the missing/weak link in the kinetic chain and helping the client correct for that facilitation and then watching the client discover just how strong they can be.

Book an Appointment Today!
Or

Patients will be charged 50% of the treatment fee for late cancellations or missed appointments.