Cassandra Kong, RMT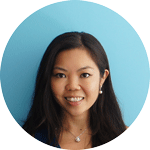 Registered Massage Therapist
Hours of Availability
Mon & Wed - 3PM to 8PM
Tue - 10AM to 8PM
Thu - 10AM to 3PM
Sun - 10AM to 6PM
Cassandra moved from Vancouver, BC to pursue her passion for helping others in the health care field and to start a new journey in Toronto. She graduated from Canadian College of Massage and Hydrotherapy with honours and is registered with the College of Massage Therapists of Ontario.
On her free time, Cassandra likes to go hiking, camping and taking pictures of scenic landscapes. Some of her other hobbies include, salsa dancing and making natural skin care products.
Why should patients choose you as their provider instead of others in the area?
I enjoy my work and helping patients relieve their pain and discomfort. I believe in working together to achieve goals and create a trusting relationship where I can provide patients a safe and effective treatment.
What are the top 3 treatments that you specialize in?
I specialize in Myofascial Release, Trigger Point Therapy, and Deep Tissue Massage.
The myofascial release helps with loosening the connective tissue underlying the skin, muscles, and organs, making the muscle easier to work with and decrease pain. Trigger point therapy helps with decreasing pain and increasing mobility of the muscle. The benefit of deep tissue massage helps release muscle tension and stiffness.
What are you proud of in your practice?
I take pride in figuring out what contributes to the patient's problematic areas and alleviating the pain and discomfort, bringing the patient to recovery feeling healthier, happier and stronger.
Which cases do you enjoy treating? Why?
I enjoy all different cases, especially the upper back, neck and shoulders. I find a lot of patients hold their tension in the neck and shoulder area, causing tightness and pain. I love stripping through the muscles, and tending to those trouble spots to relieve tension.

Book an Appointment Today!
Or

Patients will be charged 50% of the treatment fee for late cancellations or missed appointments.