Carol Culhane, RMT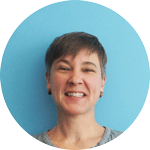 Registered Massage Therapist
Hours of Availability
Tue - 10AM to 8PM
Thu - 10AM to 3PM
Sat - 10AM to 5PM
Prior to becoming an RMT I practiced for 12 years as a shiatsu therapist, which is a Japanese style of massage utilizing acupressure. Integrating Swedish and shiatsu techniques can be a very helpful approach to alleviate pain and discomfort.
Which cases do you enjoy treating? Why?
I enjoy treating the neck as it can hold a lot of tension. The average weight of the human head is around 11 pounds which is a lot of work for the neck muscles. Neck tension increases as we bend the neck forward to read off the computer or phone screen. Releasing this area can improve posture, treat headaches, and reduce overall tension and stress.
What are you proud of in your practice?
I am proud of my communication skills and how they impact my clients' wellbeing. This helps to pinpoint problems as well as improving treatments and home care results.
What are the top 3 treatments that you specialize in?
I specialize in acupressure, deep tissue, and deep relaxation treatments.
Why should patients choose you as their provider instead of others in the area?
I have over a decade of experience which has taught me that some days the right way to work with a patient is to work deep into the tissue, while other days a light touch is required. I believe that above all else the right approach is to treats the patient's immediate needs while keeping long term goals in mind.

Book an Appointment Today!
Or

Patients will be charged 50% of the treatment fee for late cancellations or missed appointments.